First off, the sizing on wedding gowns is ridiculous to begin with,
so you can actually get a good sense of how you'd look headed down the aisle.
Every bride-to-be can relate to the pressure to look gorgeous (and slim) on her big day.
If you're a
plus size
woman looking for the perfect evening gown, you may find yourself feeling a bit overwhelmed. In the past, it has been challenging for plus size women to find attractive or affordable evening gowns. The good news is designers are finally creating beautiful, feminine and sexy gowns for plus size women of all ages and sizes.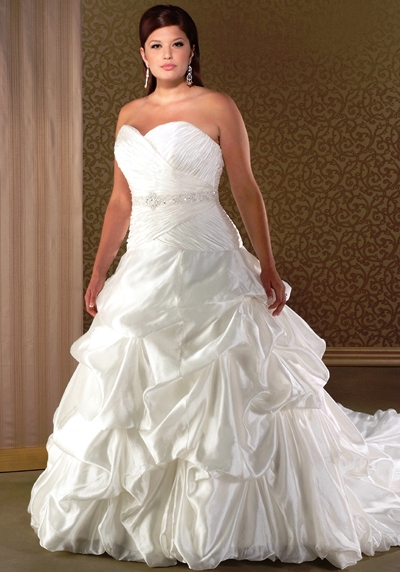 In the bridal world, for the most part, a plus size bride is invisible, BUH PROOVE THEM WRONG....always look smart especially wen going on an evening gown or choosing ur perfect wedding dress
Regardless of what you are looking for, perfect plus size evening gowns are available to fit your needs. Take time to find something you love and that fits you well and you'll feel like Queen of the Arena...
Add a little glamour to your wardrobe

get it right with your fashion sense,

Flaunt it if you gat it.......BBB....BIG, BOLD AND BEAUTIFUL
Most of us have daydreamed about walking down the aisle in our perfect wedding dress
that can still happen.........u re big. it doesnt stop anything.....
Plus size dresses are no longer boring. They can be sexy!
Some general tips for buying a plus sized dress:
Flaunt what you've got, hide what you don't;

The main thing to consider for a plus size cocktail dress is the fit of the dress itself;

Styles that work best are darker hues such as black, brown, grey, or any other neutral, solid color;

Accessories: keep jewelry options to regular sized. Keeping it too small or too big and bold will give an appearance of a larger body which is not attractive;

Understanding of their body's shape and size;

Do Not compromise being comfortable for anything else;

Too much puffs and pleats are better avoided.
Octavia Spencer at it as always.....lovely dress....brings outher full figure....i like
you can still wow every1 on your wedding day, you can still look so attractive on that big day.....take a look at this sexy busty bride...full of smiles....ah!!!!!
Octavia Spencer always knows how to do her thing, she alwayz knows what fits her figure all the time, she always dresses to say...Hello!!! and PHAT AND SEXY ans so?????
you can be fat, busty and still look trendy in whatever you wear, all it takes is the rught dress, hair and make up.
Jennifer Hudson...ofcourse when she was still fat.....but yea!!!!! she did rocck!!!!